Franciscan Friars of the Immaculate
F.A.Q.
Franciscans greet each other with the classic "Pace e Bene." Why do you use "Ave Maria"?
Our form of greeting is "Ave Maria" inspired by the greeting used by St. Maximilian M. Kolbe in his Cities of the Immaculate – Niepokalanow in Poland and Mugenzai No Sono in Japan. Such a greeting naturally recalls the mystery of the Annunciation and therefore expresses the most beautiful and important greeting, that of God Himself who, through the Archangel Gabriel, announced to the Virgin Mary the event of the Incarnation. Such a greeting is also meant to pay homage to Mary's mystical presence in every baptized person.
What is the meaning behind your logo?
The logo of the Franciscans of the Immaculata replicates the oval shape of the Miraculous Medal. The outline is represented by the Franciscan rope with the four knots symbolizing the four vows: obedience, chastity, poverty and total consecration to the Immaculate. At the bottom, the Sacred Hearts of Jesus and Mary indicate the association of Christ and His Mother Mary Most Holy in the divine plan of Salvation. The two arms, indicate Jesus Christ and St. Francis, both stigmatized and united in the Immaculate Conception, Mediatrix of all Graces, which stands immediately below the Latin name of the Institute.
What is the meaning behind the shape and color of your habit?
Our Franciscan habit is in the shape of a cross (Tau). On top of the tunic is the capuche that can cover one's head. The sisters don't have the capuche, but simply the mozetta along with the veil, both sky-blue colored. The color of our habit is grey-blue. The color gray indicates the course grey clothe of Franciscan traditions, symbol of austerity ("You are dust, and to dust you shall return." Genesis (RSV) 3:19), and the shades of light blue are a reference the Marian dimension and a reminder of celestial realities. Both friars and sisters wear, on the side of the heart, the miraculous medal. Both are cinctured by a hemp-colored cord with four knots which symbolize the vows which we profess: unlimited consecration to the Immaculate, obedience, chastity, and poverty. The rosary, attached to the cord, is the "Franciscan crown", a particular devotion from the Franciscan tradition which contemplates the mysteries of the seven joys of the Blessed Virgin Mary. Brown colored sandals, with bare feet, a sign of poverty and penance. During winter, especially in the colder parts of the world, both friars and sisters use, at their disposal, a mantel of the same color of the habit. The friar novices, who aspire to live the life of a Franciscan of the Immaculate, wear a capuche without the hood on their shoulders with a knot-less cord. The sister novices wear a white veil with a knot-less cord.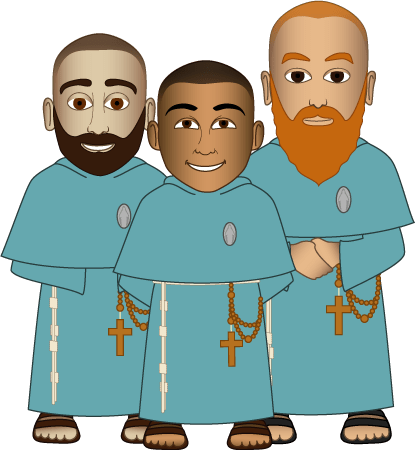 Complete the form below and we will strive to get back to you as soon as possible…