Franciscan Friars of the Immaculate
Marian
The Marian Dimension 
The Marian dimension is the specific characteristic of our religious family.
Our inspiration, St. Maximilian Kolbe, was an apostle of the worship of the Immaculate Conception.
It is well known how this humble and meek Franciscan, with incredible boldness and extraordinary organizational genius, developed the "Cities of the Immaculate" by making devotion to the Mother of Christ – contemplated in her solar garb (Cf. Rev. 12:1) – the focal point of his spirituality, his apostolate, and his theology.
Father Kolbe, consistent with all Catholic doctrine, liturgy, and spirituality, sees Mary inserted into the divine plan, as the "fixed term of eternal counsel," as the full of grace, as the seat of Wisdom, as she who is predestined for the Motherhood of Christ, as queen of the messianic kingdom (Lk 1, 33) and at the same time the handmaid of the Lord, as the one chosen to offer to the Incarnation of the Word her irreplaceable cooperation, as the Mother of the man-God our Savior, Mary is She through whom men come to Jesus, and She through whom Jesus comes to men.
There is thus a profound connection between Marian life and missionary life. This moved Father Kolbe to introduce a "Fourth Vow" to ensure total availability of friars to be sent on mission.
For the Franciscans of the Immaculate this same vow has become public and is called the "Marian Vow."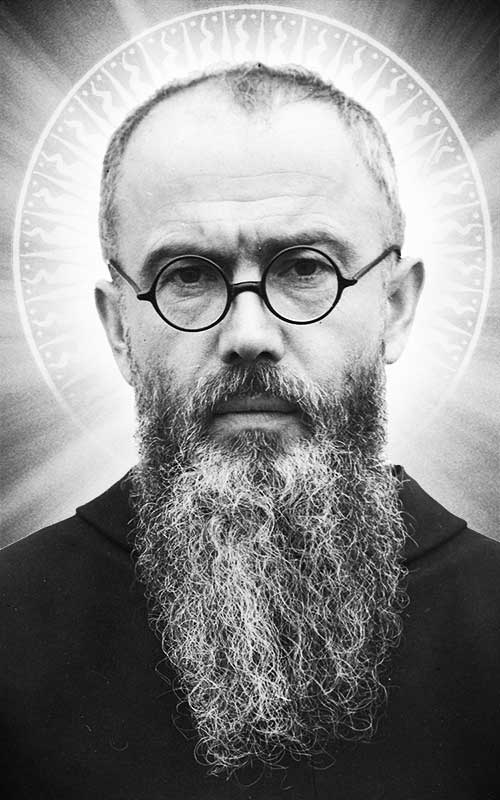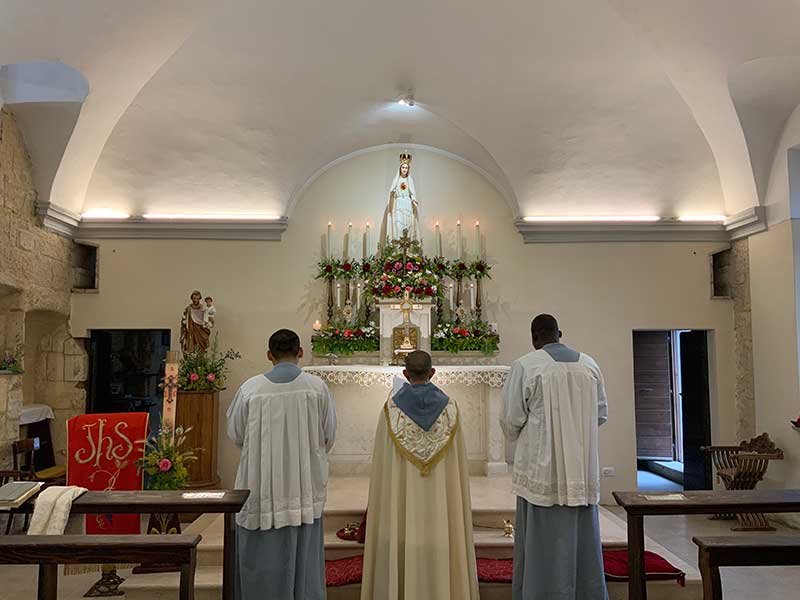 As such it also constitutes the distinctive character of the spirituality and apostolate of the Institute, which is committed to establishing the Kingdom of Christ on earth in the "most beautiful, most pleasant and most secure" way (cf. SK 1299), that is, through the Immaculate, with the Immaculate, in the Immaculate (Const. FI 44).
In its ascetical dimension, the Marian Vow demands a life lived entirely for the Immaculate without reservation. The obligation, both moral and juridical, of the consecrated person with the Marian Vow is to be fully docile, in everything and for everything, in the hands of the universal Mediatrix, always available even for the most difficult missions for the kingdom of God on earth. (Const. FI 45).
An outward sign of Marianity in every Franciscan friar of the Immaculate is the color of the habit, which takes up the original ash of St. Francis with a marked celestial tinge, typical of Marian representations.
A distinctive sign of the friars is also the "Miraculous Medal" pinned to the chest at the side of the heart in remembrance of the Marian apparitions at Rue du Bac in Paris in 1830 and of which St. Maximilian Kolbe himself was a great promoter.